I had to delay my closet staple series( Knit Wear) because I knew the inevitable was coming and I was in complete denial of it: the Fall season. Don't get me wrong, I love the fall season. The autumn leaves, Starbucks pumpkin spice coffee( I heard from another blogger it's back, yipee!!), and fall fashion in general. In fact, it just may be my favorite season weather wise. You dress up for fall because it's fashionable to do so not so much because the weather requires you to. But the coming of the fall season, no matter how glorious its weather is, just means that the dreadful winter weather is right around the corner:(
On the brighter side, fall fashion is almost here!! And our closet staple #9 is none other than knit wear. So stock up on the following knit wear my fashionistas and you're sure to enjoy this autumn season stylishly:
Knit Wear #1:A chunky cardigan
How to wear: you want to balance the bulkiness of this piece by pairing it with a slim bottom such as a skinny jean, a pair of leggings or a pencil skirt or you'd risk looking like the abominable snowman!
Knitwear#2: A sweater dress
How to wear: Because many sweater dresses are clingy and if you did not wear any bikinis in the summer because you have less than the ideal ab area to show off, then you may want to skip on most sweater dresses too as they are the bikinis of fall wear. A tight sweater dress is unmerciful in highlighting the belly area so if you are not confident about this, then opt for other fall knitwear pieces. If you have less than a perfect abs like most of us and you still really want to wear a sweater dress, then go for those that have A line or tunic style silhouttes But, if you have a midsection that would be the envy of us all, then a slim fitting sweater dress is right for you. Wear with opaque tights, a knee high boots or an ankle boot and you're sure not to "sweat" your fall fashion style.
Knitwear #3" A regular cardigan
How to wear: Wear over a shirt and pair with a bottom that's slim or poufy! This knitwear is so versatile. Wear it to tie down the bulkiness of a top or a dress
Knitwear #4: V neck sweater
How to wear: wear with jeans and knee high boots, a skirt and an ankle boot or wear over a button down collared shirt for a polished office look. This is such a fool proof piece, I would stock up in every color!
Knitwear #5: A crewneck sweater
How to wear: Wear the same way you would wear a V neck. It is also as reliable. Wear with really fun jewelry to liven up your outfit.
Knitwear#6:A sweater vest
How to wear: Wear with a button down long sleeve for a serious look, with a flirty blouse for a sweet look and with just a plain shirt for a casual or edgy look.
NBC.com
Outblush.com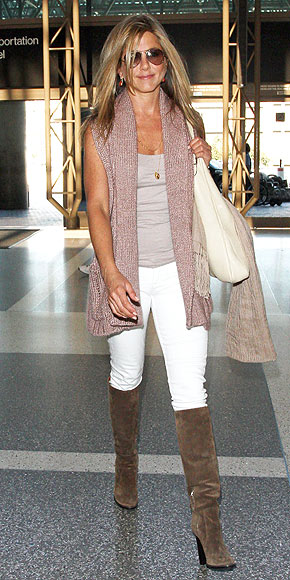 People.com
Knitwear #6: A turtle neck
How to wear: Wear under a suit, for a serious executive look, a short leather skirt for a fun night look. You can wear it with anything imaginable. It's totally fool proof too! Those sundresses that you don't wanna part with just yet, may be worn underneath a turtle neck paired with boots knee length or ankle for an edgy fall look.